A bum knee.
I joked with Hank the other day and I told him he has a bum knee.  That term makes me laugh strictly because I don't know the origins of that saying.  I mean, why can't you have a bum neck? or bum elbow?  Hmm, maybe you can. I've never heard of that, though, have you?
Anyway, back to the bum knee.  Hank has one.  Somehow he mysteriously tore his miniscus, and now he's having surgery to fix it.  The kids are with some friends, and bright and early Hank and I will be at the hospital.  I get a nervous energy anytime the word "surgery" is involved.  So to deal with it, I decided to draw.
It's been a while since I've drawn anything for myself. And wow I've forgotten how fun it is to do!  The result of it all is this:
Simply titled, For Hank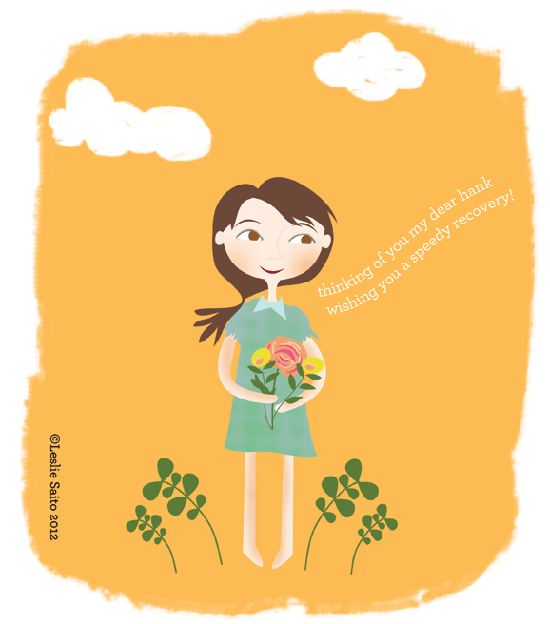 Summer.
Being a teacher and mama of young kiddos, my life is punctuated by June, July and August.  Like bookends, the summer months parenthesize the rest of my year. Before September rolls around marking a fresh start and back to school, I make sure to hold my annual Five Faces photoshoot of my kids and their best friends.  This morning I snapped my fourth session, and as you can see, the kids are growing up! Right before my own eyes!
Five Faces, Summer 2009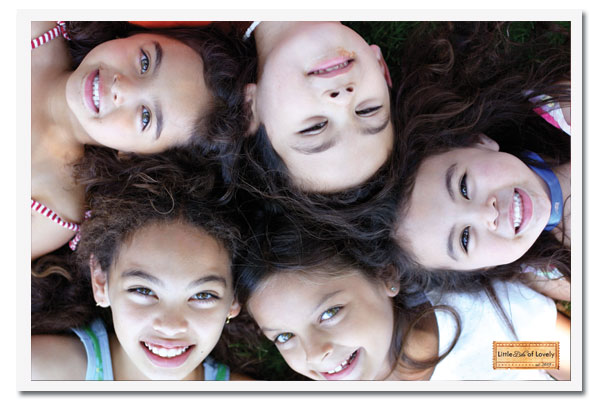 Even though some of the kiddos have food on their faces, I left this photo untouched!  Part of the fun is seeing them in their natural state as they were in this exact moment of time.
Five Faces, Summer 2010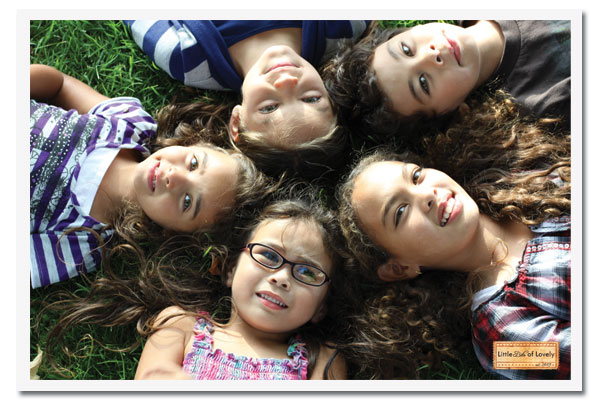 New glasses for Kate. The older girls were ready to start the fifth grade. Henry's hair was long. I love the look on Kate's face. She wasn't on board with this photo shoot this year.
Five Faces, Summer 2011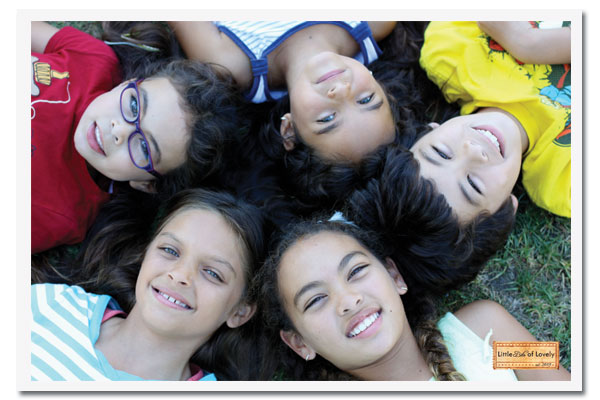 The summer before middle school (for the older girls). Henry's hair is even longer.  Summer was winding down, and the nerves and jitters for the new upcoming school year were on high. And this photo was shot moments before Henry let out a HUGE sneeze and spattered mocos all over everyone's faces. That was fun.
Five Faces, Summer 2012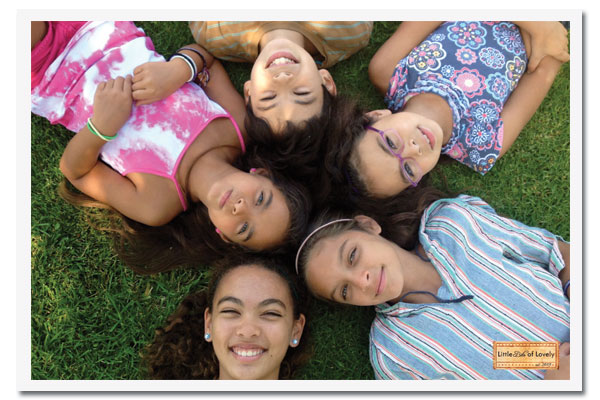 One year of middle school under their belts (for the older gals).  Kate has new glasses.  New teeth are coming in.  Faces are changing.  This will be Alison's last photo before braces. . at least for a while!
And that's it!  I told the kids that I will shoot this series for as long as I'm alive!  This could be interesting….so stay tuned!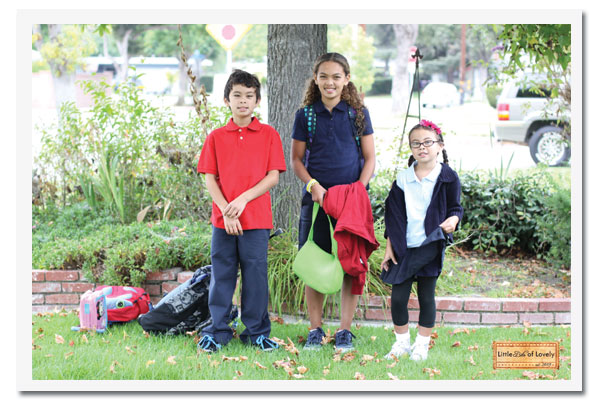 First, September 2010
A fading summer tan.
Crisp, fresh uniforms.
Room to grow.
Nervousness about the year to come.
Memories of a fun-filled 100 days of vacation.
Bidding adieu to summer.
Pride and confidence for completing another year.
Excitement for the next 100 days of freedom.
Hints of a forthcoming summer tan.
Ready to turn over a new leaf.
Welcoming summer with open arms.
View last year's FIRST AND LAST.
A 50s GREASE themed party?  Yes, please and thank you.
Friday night, Henry transformed into a tuff greaser.  It's amazing how fabulous a little charcoal can be for faux facial hair (simply burn the end of a wine cork, and voila! instant charcoal).  I know this post is photo heavy, but sometimes stories are best told in sequence.  Sneaky mama snapped these photos.  Take a look.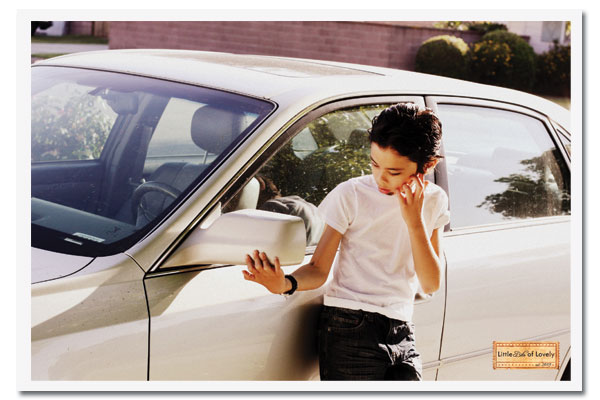 Checking out the sideburns.  "What are these things, Mama?" he asked.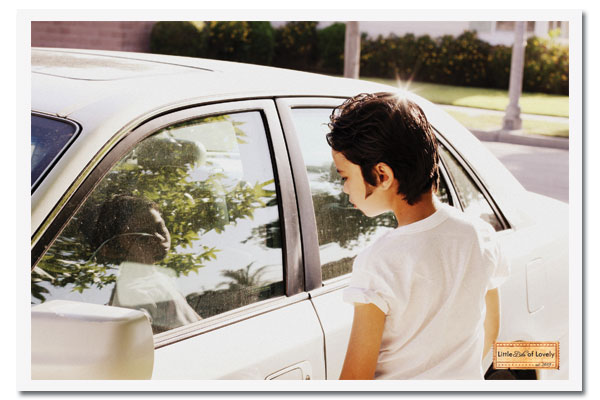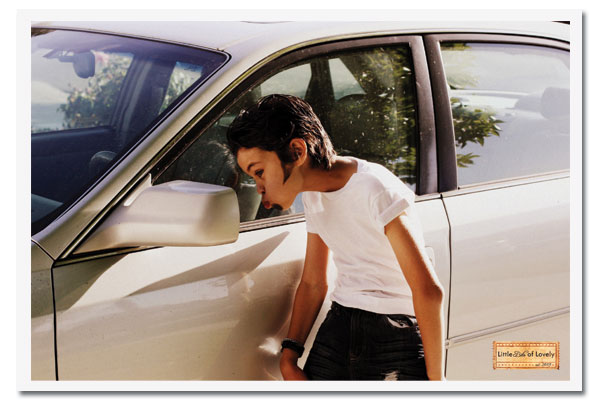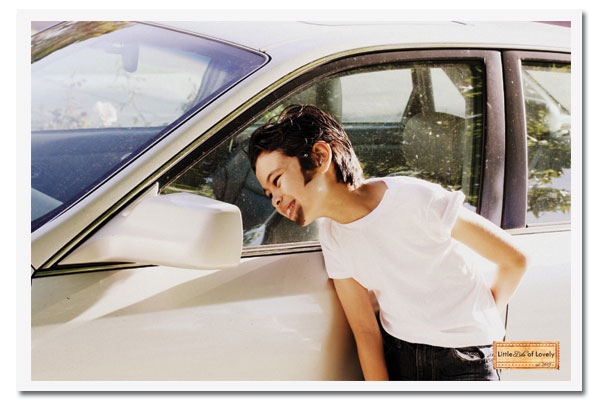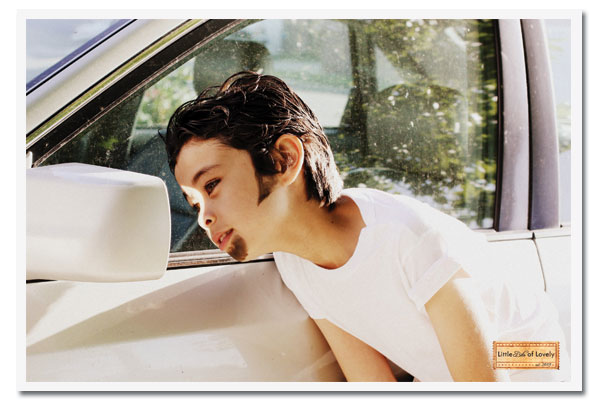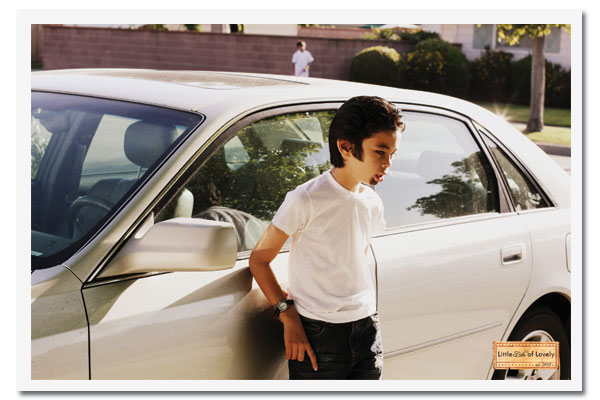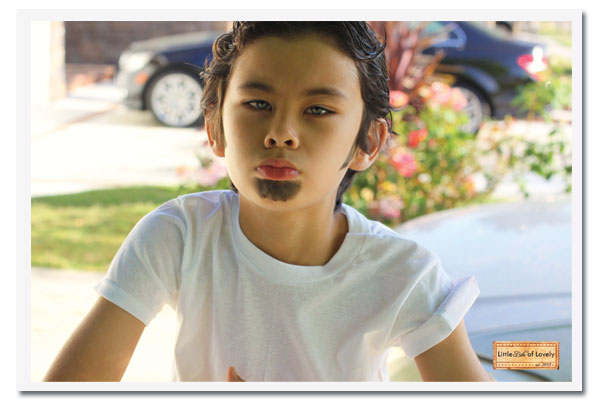 Tuff guy.  Complete with a pack of gum in the sleeve. We're keeping it real, folks.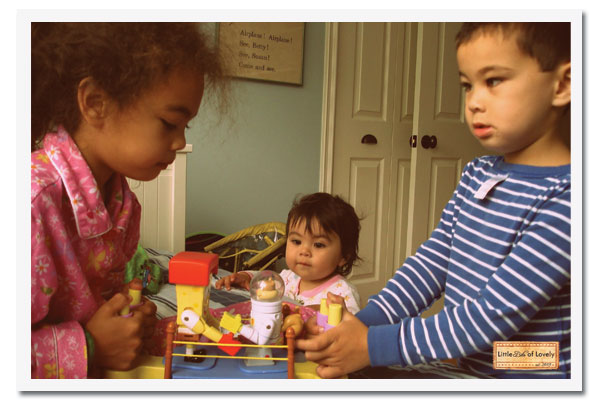 Once Upon a Time – 2007
This is my three ring circus back in 2007.  I love this photo so much as it captures my kids' personalities so well.  Alison, the focused, competitive one.  Henry, the sweet observer (with his shirt on backwards and inside out!).  And Kate, the youngest, who is always wanting to join in with the bigger kids.
It makes me happy to know that my kids are laying the groundwork for a lifetime of friendship with their siblings.  I know that their relationships will ebb and flow with their needs, but at the end of the day, they will always have each other.
A couple of weeks ago I previewed the puberty video at Alison's school.  You know, the one that talks about all the girl stuff like: periods and ovaries and fallopian tubes.  As I sat with the other parents and watched the animated clip of how the egg travels through the fallopian tube, my memory segued to flashbacks of watching my own puberty video.  Back in the 80s, our movie was shown on a reel to reel projector, and I remember very vividly sitting in the dark watching the choppy film.  The sound never quite matched up with the movie, and a man (a man!) did the voice-over for the film.
Shortly after the film was over, Mrs. Huerta, my teacher, flicked on the light switch and we all cowered from the piercing brightness (or from the embarrassment).  Oh our H.Q. (humiliation quotient) would not end there.  Oh no. Mrs. Huerta then brought out a life-sized plastic uterus and encouraged us girls to "FEAR NOT THE UTERUS!"  Yes, that's right.  To embrace our soon-to-be woman-ness, we then had to offer our hands and TOUCH THE UTERUS.  I still remember the hollow thumping noise after tapping my hand on the lady parts.
Flash forward to the present video.  I sat with a dozen other parents who seemed mighty serious, and for most of the twenty minute video, I found myself feigning interest.  To distract myself, I also posted on Facebook:

Within five minutes, the comments started.  And then the texts. And more texts. The very friends who sat next to me in that health class texted me to remind me also of Mrs. Huerta's hairy mole.  And before I knew it, I was absorbed in the past, stifling laughter and remembering those awkward moments of adolescence.
And now. Full circle.  I get to relive that awkwardness of my 11 year old as she balances precariously between two phases of her life: child and tween.  Some days she's moody and hormonal, and other days, she's still my little girl.  Recently her friend gifted her a basketball for her birthday, and much to her delight, she is finally able to palm the ball. Something my own grown hands can't seem to do.  A seemingly insignificant milestone, but one that shows how fast she's growing up.  I feel fortunate to be able to guide her through these years…even if it means reliving puberty.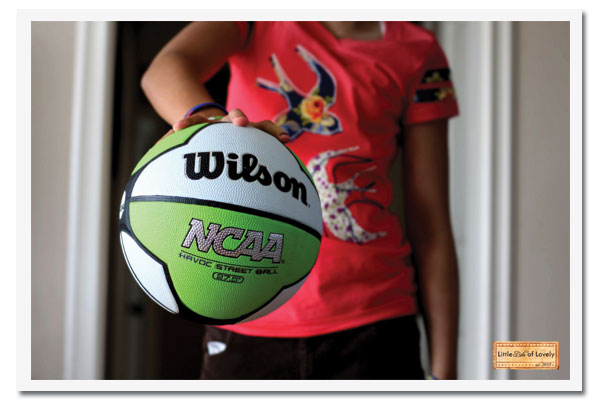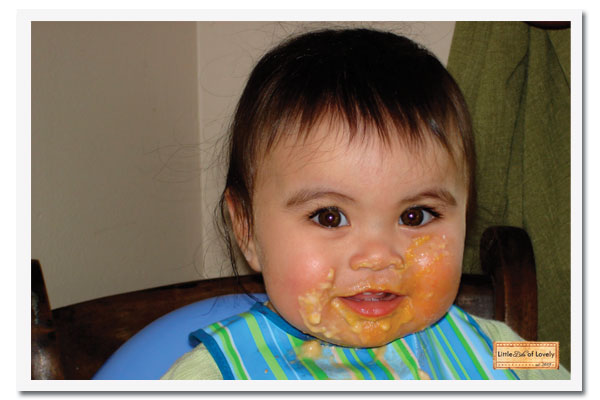 Bebita – 12/28/2006 – 6 months
My littlest babe.  Now that she's in kinder, she doesn't like to be called "Baby Kate" anymore.  So I've switched to "Bebita."  The same name disguised in another language. It's all the same, though.  No matter how old, no many how many years pass, she'll always be my Baby.
A whirlwind weekend of celebrations left us pretty wiped out by the time Monday rolled around. We enjoyed our (second) annual trek out to the Hollywood Forever cemetery for the Día de los Muertos. (View last year's photos).
We also had fun on Halloween.  Despite feeling sick the night before (103 fever!), Kate had pockets of time where she was feeling ready to rock and roll.  Luckily, trick or treating was during that time. . .by the time night fell, she was feeling feverish again.  A little candy helped that, though.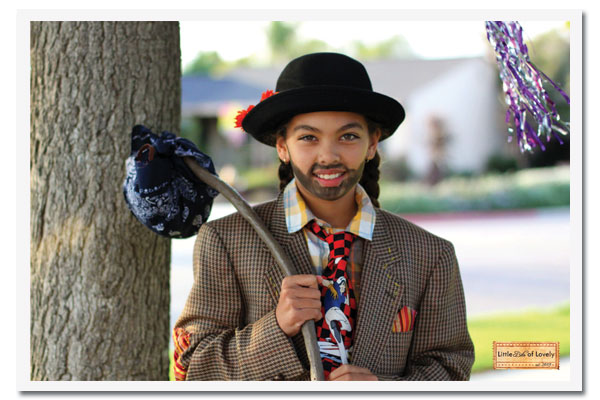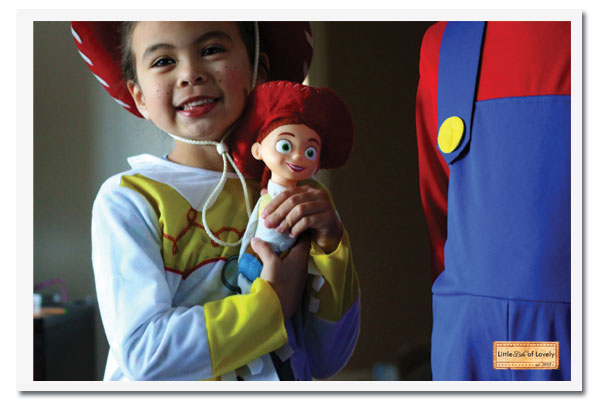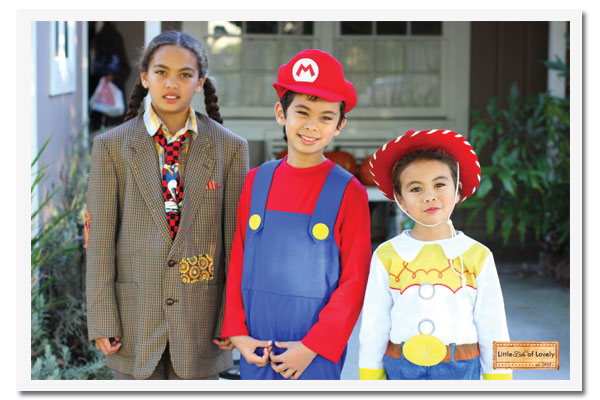 The Unhappy Hobo, Mister Mario, and Jovial Jessie.
Remember, last year?  It's amazing how much they've changed in a year!
A little photoshop fun with my kidlets. I made these into little labels for their treat bags.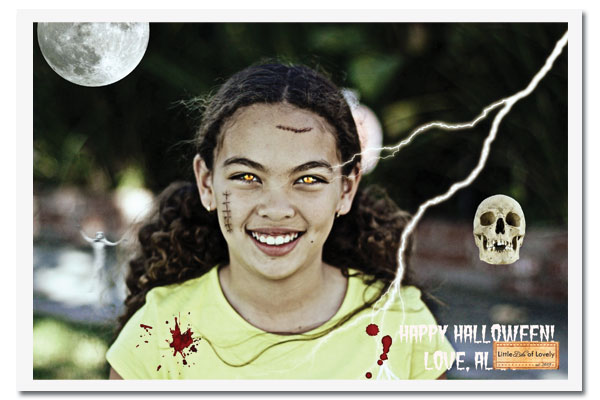 Countess Alison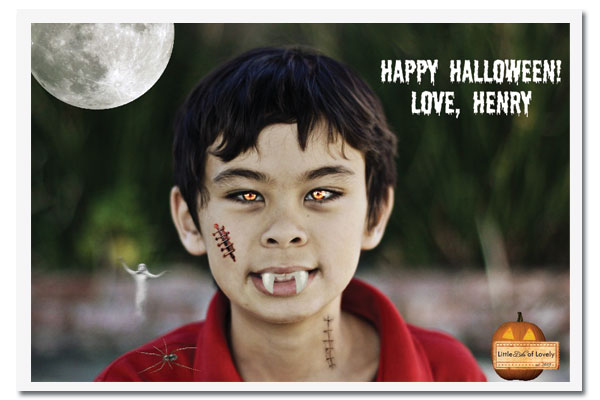 Count Henry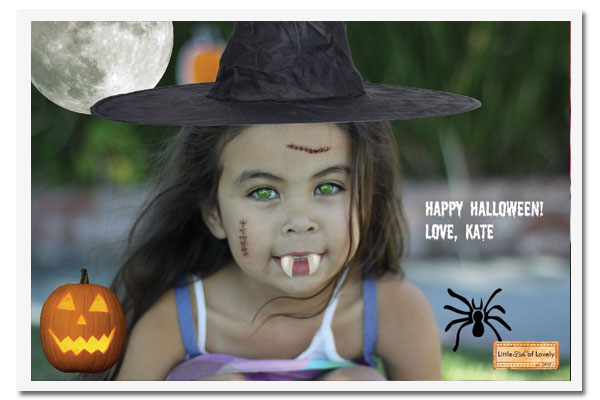 Witch Kate
Wishing everyone a Happy (and safe!) Halloween!
To get through the hardest journey we need take only one step at a time, but we must keep on stepping.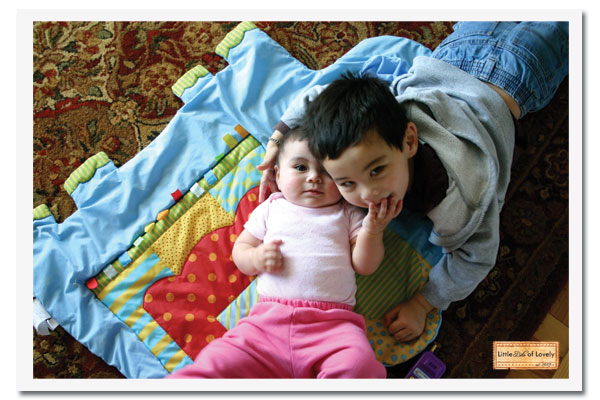 Kate + Henry, 2005
Our morning began with a flurry of passing time, one which required me to locate a missing shoe and sign a permission slip with seconds to spare.  As always, it's a constant race against time.  Once we pull up at the school campus, Henry pops out of the car, flips open the hatch to retrieve his sister's backpack and lunch box.  Taking care of his sister is what he loves to do.
Once we arrive at Alison's class, Henry leaves her with a hug and an "I love you."  We repeat this at the next juncture, Henry's classroom.  Another hug and an "I love you," and Kate is on her way to her classroom down the hallway.  Our days unfold in this predictable manner, and yet each time, my heart tugs a bit to see the love and affection from my Henry.
My sweet, sweet Henry.  And did you know that experts say that those on the spectrum avoid personal contact and affection?  But Henry?  He's defied that stereotype.
He's an anomaly.
He's also sandwiched between two strong-willed, determined sisters.  Like bookends, their wants and wishes usually get pushed to the forefront, and Hank and I find ourselves in a most impossible place.  We spend most of our days trying to juggle the lives of two "typical" children with Henry's not-so-typical life.   His days are filled with speech, RSP, occupational therapy, tutoring, swimming (at an occupational clinic).  In comparison, the girls' lives are seemingly so easy and effortless.   There's incredibly athletic Alison who can shoot a free throw just as easily as she can ace an exam.  And then there's Kate who, at age 5, is writing and reading, and most recently she's started cursive writing.
And then there's my son, the boy who climbs mountains every single day.
His days are full and busy, and most nights he goes to sleep exhausted from the day. Whether he's being tutored or whether he's working on his motor planning skills with his occupational therapist, he manages to keep fighting the fight. He's the one who amazes me every day.
Never once have we uttered the word AUTISM to the girls, and even Henry doesn't know he has a label.  He's so much more than a title, and I refuse to have him pigeonholed into a definition.  A label wouldn't demonstrate his affection for his sisters or the love he has for animals.  It would deny his sense of humor, his silliness, and his thoughtfulness.  (Did you know that most evenings, he thanks me for cooking? and offers me a compliment too?)  On rare moments, we see him as a typical brother as he pesters and teases his sisters, but most of the time he's sweet Henry. He's so much more than that stagnant label.
Despite these perfect moments, the ones that paint a glossy vignette, we find ourselves in a valley, a low point.  We're doing everything we can to help Henry scale that mountain, but as with parenting any child, Hank and I are finding ourselves without a map.   We're following our gut instincts, but lately most nights end with more questions than answers. Reaching that peak seems more challenging than ever, but we're all in it for the long journey. Our Henry will keep fighting.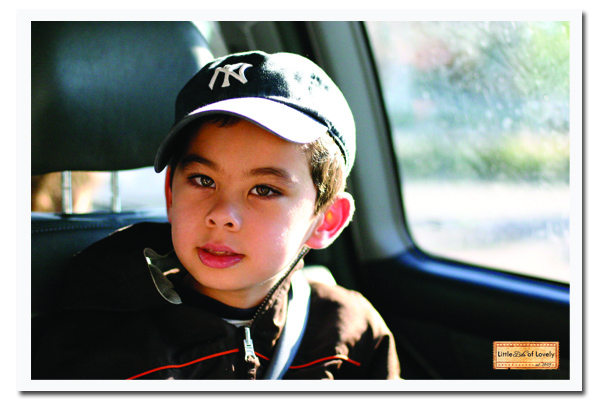 Henry, 2008