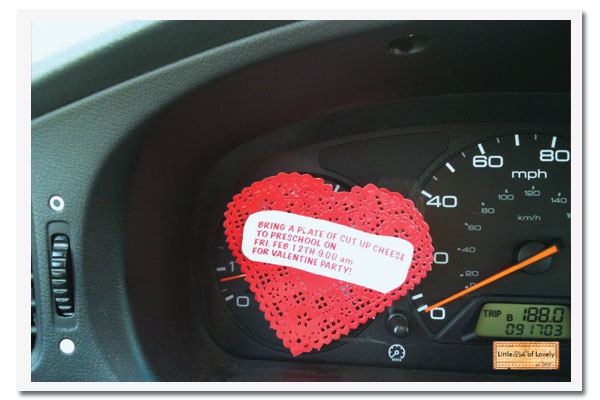 Note to Self, February 4, 2010
My car is a bona fide traveling office, complete with file folders, extra pens, breath mints, hand sanitizer, kleenex and important school fliers.  Juggling three kids with varying (read: crazy) schedules has my mental filofax bursting with information.  My newest little trick is to leave myself notes on the dash of the car.  It's akin to tying a string on my finger or writing a note on my hand, only better.  Every time I'm dashing around town, I will always remember that, yep, we have to bring cheese for Kate's valentine party.
***
Today I arrived early at one of my many destinations, and with time to burn, I decided to do something I hadn't done in a long time.  I dialed my father's cell phone.
My mom kept his number live for at least a year after he passed, and every now and then I'd dial his number.  Sometimes it would be out of habit;  other times it would be just to hear his (recorded) voice. Today I called his number hoping to hear his recorded message, but instead was greeted by a stranger's voice:
Voice:  "Hello?  Hello?  Hello!"
Me: "……….."
Voice: "Yo, who is this? Who calling me?"
Click.
I knew that my father's phone number would eventually be recycled, but I never expected it to happen just yet.  A few minutes after I hung up, my cell phone rang.
Me: "Hello?"
Voice: "Yeah, um, you called?  For D'Angelo?"
Me: (stammering) "Um, no. I…I, uh…no, I'm sorry I must have misdialed."
Click.
Dad, I was just calling you to say hello.  And to tell you I'm fine.
If you enjoyed this post, please consider to leave a comment or subscribe to the feed and get future articles delivered to your feed reader.
Comments
3 Responses to "Note to Self"