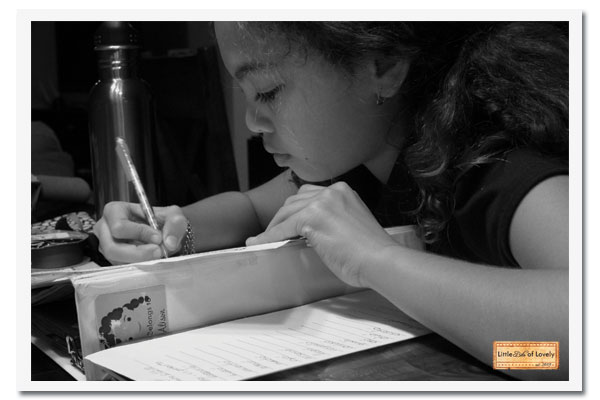 6 p.m., January 11, 2010
Alison is in this year's school play which means that our afternoon schedule has to shift and move to accommodate everyone's activities.  Most days start off with everyone parting ways in the a.m. only to reunite around 6 p.m.  Luckily, Alison is a really good student who manages to balance everything: the play, sports, chores, and homework/classwork (including the extra work her teacher gives her).   Being part of a busy family who juggles a congested schedule, I am so grateful for her (self-imposed) good study habits.
When I think about my third grade year, I have flashbacks to the time when my mother requested extra work from my teacher.  Mrs. Sawicki was a bit of a ding bat whose white hair was spun thin and wispy atop her head like cotton candy.  She wore her glasses perched on the tip of her nose so that she could peer over them with ease.
"Leslie. . . your mom asked that I give you extra homework. . . she feels you need more (cue air quotes) "challenging work". . . so here it is." (Cue thumping sound of homework packet landing on my desk).
Heads swivel in my direction.  All eyes on me.
A moment I'll never forget that's for sure.
If you enjoyed this post, please consider to leave a comment or subscribe to the feed and get future articles delivered to your feed reader.
Comments
One Response to "Work at Home"