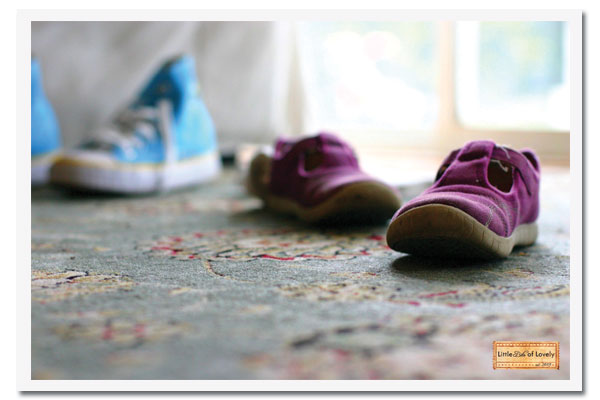 Bread Crumbs, January 17, 2010
My two little girls love to kick off their shoes and socks as soon as we cross the threshold of our front  door.  Like two little Gretels, they leave their shoes and socks strewn about, dotting like floor like a trail of bread crumbs.   Every day it's a constant game of shifting things (backpacks, shoes, books, toys) from the living room floor to their bedrooms.  Before I can enjoy the tidiness of the living room, the things always make their way back again.  Usually The Gretels win, and after they're tucked in bed sound asleep, I crash onto the couch, exhausted from the day.  As soon as I've committed myself to lying supine on the couch, I see them.  There taunting me are the left behind shoes….the school papers. . . the doll. . .
As soon as our game is over, we start all over again.
If you enjoyed this post, please consider to leave a comment or subscribe to the feed and get future articles delivered to your feed reader.
Comments
One Response to "Bread Crumbs"