Yesterday an old childhood friend (hi Wendy!) sent me an e-mail, and though I haven't seen her in a decade and a half, the power of Facebook allowed our paths to cross again.  Like most of you, dear readers, my Facebook page is filled with friends from various stages of life dating all the way back to preschool.  I have high school friends, college friends, and even old work friends from my first job.  I have dorm friends and study abroad friends, and recently I've added a few old students too (three of them to be exact).
It's kind of surreal that I can read everyone's status updates while I drink my morning tea, and with the simple click of a mouse I can read about my nephew's trek across Europe (and feel relief that he's safe!) or learn that dear Lori in Wisconsin is snowed in.  I can read about my friend John's open request to borrow an E-Z up tent for a local event (and I am happy to loan mine!).  It's experiencing life in real time (down to the micro-moment), and though I'd prefer a phone call or a handwritten note, browsing my queue is an effortless way to stay up to date with friends both near and far.
Each morning, friends from the full spectrum of my life are all there right before me in one tidy spot on my computer screen.  As I scroll through their status updates, their mere presence keeps memories, both the new and the old, fresh in my mind.  Just the sight of my friend Heather's name in my queue, and I immediately think about my crazy times abroad in México.  I see Alyssa's updates, and I automatically remember our weekend slumber parties in the fifth grade.   My friends are my memory keepers, and  I'd like to believe that when I'm gone, a part of me will live on in them.
In her e-mail, Wendy kindly shared some memories she had of my late father.  Her most vivid memories were of his cheerful disposition, his warm smile, and most importantly, his generous offering of full-sized candy bars to the neighborhood kids on Halloween.  Her e-mail brought me much happiness to know that his spirit still lives in those small flashes of memory.
Shortly after reading Wendy's e-mail, I also learned that my dad's high school classmates recently had their own Memorial Day.  A small group of my dad's friends gathered together, ate lunch, and then from cemetary to cemetary they visited their deceased classmates.  The day culminated at my father's headstone, and together, his friends shared memories and laughs.  They brought flowers, of course, but they also brought my dad a can of Bud Light.  Because if he were here today, that's what he would have wanted most;  to have a good time with loved ones and close friends.  They are his memory keepers like you are mine.  I can only hope that when I pass, bit by bit, memories of me will live on in you.  And you. And you.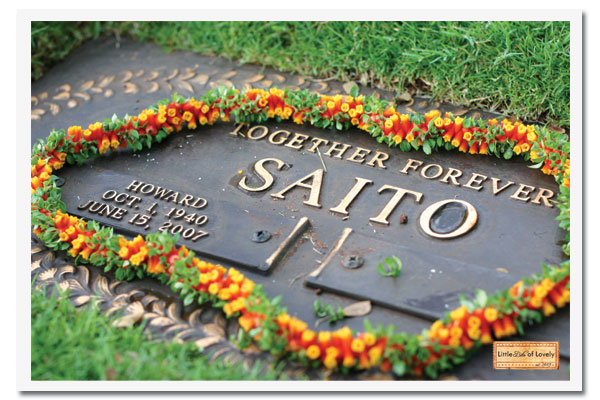 Memory Keepers
If you enjoyed this post, please consider to leave a comment or subscribe to the feed and get future articles delivered to your feed reader.
Comments
3 Responses to "Memory Keepers"