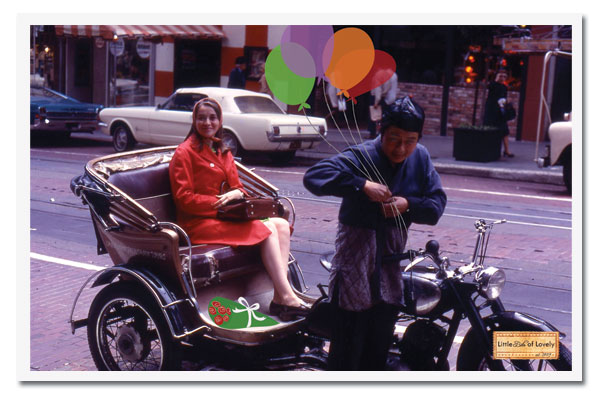 Shutterbug Series: Sittin' Pretty
A couple of years ago, my husband scanned hundreds and hundreds of old family slides and converted them into digital photos. Among them were photos of my in-laws on their honeymoon. Pictured here is my mother-in-law in San Francisco's Chinatown in the late '60s (right, Joann?). I was so mesmerized by these fabulous photos that I transformed some of them into my Shutterbug Series in my shop. I always love telling my customers the history behind this card series, and they always seem intrigued to know that these creations are actual family photos.
Today, Kate and I were hanging out listening to Madeleine Peyroux while it drizzled outside, and somehow the music brought me to this photo of my mother-in-law. It seems so chic and French (even though it's in Chinatown). I fired up Photoshop, and quickly doodled some balloons and a bouquet of flowers. I love combining little illos with old photographs. Something about it just makes me so happy.
If you enjoyed this post, please consider to leave a comment or subscribe to the feed and get future articles delivered to your feed reader.
Comments
One Response to "Shutterbug Series: Sittin' Pretty"