Sometimes the mind can play tricks on us by allowing us to live in a moment of suspended reality. For the briefest tick of time, we're living in a moment so surreal. Our mind bends, and we enjoy the brief shock of happiness it brings to us.
A couple of weeks ago, my mother and I went out to lunch at a local Chinese restaurant. It was a work day, so the restaurant was brimming with folks on their lunch breaks. We scanned the menu, and quickly decided on the lunch special.
Before the waitress could finish jotting down our order, my mom paused, turned to her and said, "Before I leave, I'd like to place another order of food to go."
Her request almost brought me to tears.
My mind wandered, and for a flicker of a moment my father was still alive as I imagined him sitting in his favorite chair at home waiting for my mother to return with his food. During her drive, the aroma of the food would fill her car on her journey home. Perhaps she would have ordered the Orange Chicken or Fried Rice, my father's favorites. I imagined her walking through the front door of her house with the bag of food on her hip.
"Who goes?" he'd yell to her as he always did. He'd smile at my mother, pleased with her thoughtfulness, and he'd peer into the bag of food. "Thanks dahling!," he'd tell her.
I'm sure that's how the story would have unfolded. That is, if my father were still with us today.
The reality, though, was that my mother and I were sharing a simple meal together, and she was ordering extra food for her dinner later that evening. Once my mind journeyed back to reality, I felt a longing for my father. A profound sadness.
I like to believe that it's in these little snippets of daily life that the spirits of our deceased continue on and live. No matter how counterfeit the moment that day, the feelings it evoked were real. And for the briefest moment, my father was alive again.
*********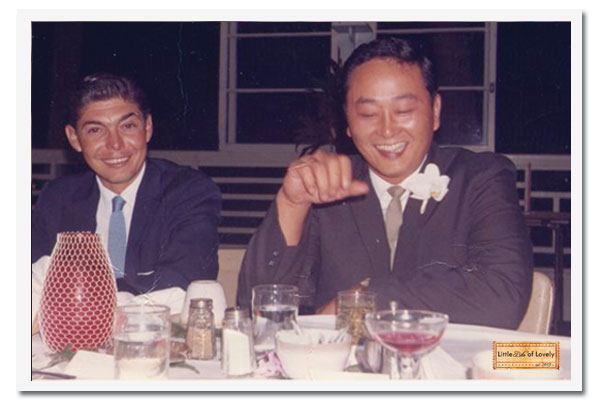 Happy Birthday, Dad! I miss you so much!
October 1, 1940 – June 15, 2007
If you enjoyed this post, please consider to leave a comment or subscribe to the feed and get future articles delivered to your feed reader.
Comments
11 Responses to "The Briefest Moment"